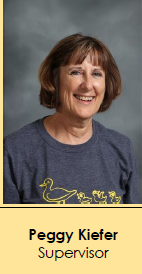 Phone: 630-961-5060
Email:
Degrees and Certifications:
MA I/ECMH-C
Ms.

Peggy Kiefer

Peggy Kiefer is Supervisor for the Parents as Teachers (PAT) infant and toddler home visiting program in NCUSD #203. Peggy has been empowering parents for over 25 years through her work as a parent educator and mentor. She has a B.S. in Elementary/Special Education (as well as endorsements in Early Childhood and English Language Learners), with a M.A. in Parenting Education and Support, along with a post graduate certificate in Infant Mental Health. In 2016, she was credentialed through the Illinois Infant Mental Health Association as an Infant/Early Childhood Mental Health consultant (I/ECMH-C).

Peggy is a strong believer in the power of parenting as a way to help children succeed in school and their life journey. She values parents and supports them in recognizing their innate ability to guide their children down a successful path. She is passionate about spreading her knowledge of the lifelong benefits and or harm of a child's earliest experiences and how significant it is to their overall well-being.